Snow blankets RCHS in rare storm
Snow blanketed the streets and roofs in Rancho Cucamonga and RCHS turned into a winter wonderland. The snowfall started at around 10:30 a.m. on Saturday, Feb. 25. Many RCHS students were in the middle of Saturday school when it started. Some of the Saturday school teachers let their students outside to watch the snow fall. The last time it snowed in Rancho was in 2019.
"I was excited when I first saw the snow at GOAL," Shahd Musa, a freshman said. "My immediate thought was to go outside and take photos though after a while my fingers got very cold."
ASB students were also on campus that day prepping for kindness week and other upcoming small events.
"I ran outside with everyone else and we all started screaming, running around, and taking pictures," Audrey Eelise explained. She was working on painting a poster for kindness week.
Rancho is about 1,207 feet above sea level. According to the Washington Post, the snow in Rancho reached about an inch.
"I was sitting at home with my mom, and we were just talking and I looked outside, because we were going to let the dog outside and it was just pouring down," said Ms. Brooke Padilla, a freshman English teacher at RCHS. "I was shocked but that's what they (weather channel) predicted. I thought it was hail at first and we were waiting for it to stop, but it just kept going."
The National Weather Service said it was one of the strongest storms to ever hit southwest California. The storm continued to have significant impact including snowfall to elevations even as low as 1,000 feet.
"I was so happy. It was very surprising to see it!" freshman Brooklyn Helper said.
Here is what other RCHS students had to say about the snow in Rancho.
"It was Saturday morning and I came downstairs and I was talking to my mom, and it was raining, and I said to her, "It would be so cool if it started snowing" and when I said that it started snowing," senior Nimrah Khan explained "I was amazed, it never snows here, it's like, it's super rare. It snowed maybe two times before in the seven years I have lived in my house. It was really really cool. I even had to drive in the snow, which was an experience."
"My dad woke me up and said it was snowing outside, I stood at the window and then I went downstairs and started putting together a snowball for him. He snuck around the backyard and threw a snowball at my head," Sadie Burns, a freshman at RCHS said.
"I was happy it was snowing since I've never seen it snowing where I live before and I went out in the snow with my girlfriend," Gen Rodriguez, a junior at RCHS said.
Leave a Comment
Your donation will support the student journalists of Rancho Cucamonga High School. Your contribution will allow us to purchase equipment and cover our annual website hosting costs.
About the Contributor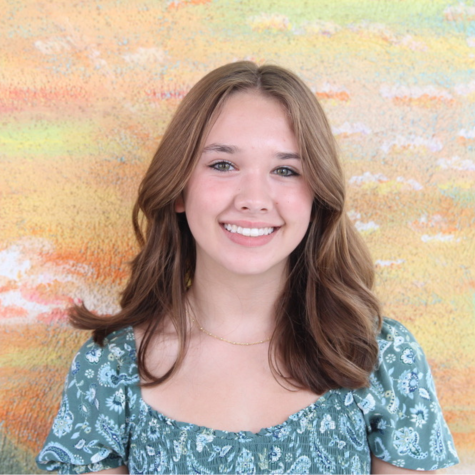 Teagan Backer, Staff Reporter
Teagan Backer is a freshman at RCHS, this is her first year in journalism. Her favorite part about journalism is getting to write about the big and fun...