Rancho Dance Hosts Winter Dance Show
For the first time in over two years, on Friday, Dec. 10, and Saturday, Dec. 11, 2021, the Rancho Cucamonga High School dance teams were able to have their first in-person performance at their Winter Dance show. 
According to Ms. Larina Vessup, the Dance Director, the central theme was "Party Like A Rockstar," and dance sold more than 1,000 tickets for the two-night event. 
"We did Party Rock and Rockstar because we had a rockstar dance. It was a collaboration of music that was inspiring to people and meant to bring the party back to Rancho," said Vessup.
During the two-hour-long show, there were 26 dances performed by all levels of dance, including a cover of Happier than Ever by Billie Eilish from Rancho graduate Bea Tablac. 
There was a wide mix of themes that night. Varsity dance performed a set entitled "Cruella." Junior varsity dance performed a set called "The Bachelor," dance 3 performed "Near Light," dance 2 performed "Elf," and dance 1 performed "Goodies."
"My theme was just to have fun because this was the first year I could do a solo and do it on my own," said senior varsity dancer Jalen Delfin. "My theme was to leave it all on the stage."
Several members from the dance team also performed small group and solo dances that were mixed into the lineup. Dance alumni also performed some sets as well. Seniors included Benjamin Lightfoot, Bryanna Binsol, and Marlee Montgomery performed a trio to commemorate their last year at Rancho. 
"This year our approach was to take advantage of every opportunity we were thrown, given the previous two dance seasons, and I'm really proud of how the team came together at the end of the semester to close out with an amazing show," said senior varsity dance captain Benjamin Lightfoot.
Junior varsity dance member Tina Sun performed a Chinese classical dance, which was the first solo performance.
"I think it's really special to perform in the dance show because no one's really seen it before," said Sun."I was nervous and excited because I didn't know if the audience would like it because it's so new to them."
According to Sun, she has been practicing Chinese folk dance since she was very young, and she was excited to share her work with others.
In order to prepare for the dance show, varsity and junior varsity attended practice both before and after school most days of the week, with dance 1-3 practicing everyday during their class periods.
Even after the dances concluded on the Saturday night show, dance still had one last surprise to give to the audience and one of their own members, senior Alonna Smith. During the closing speech, she was promoted from junior varsity to varsity dance.
"I've been waiting for that moment for my whole high school career," said Smith. "It was great that I could share that with everyone."
"This show was a turning point in our program in terms of how life has changed and how we can overcome that change and how we can push what we love and push through all the obstacles and still get there," said Vessup.
Leave a Comment
About the Contributor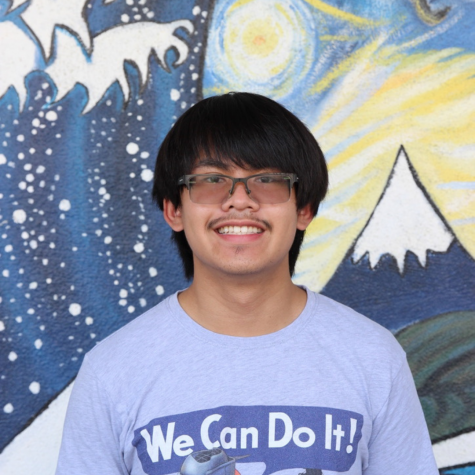 Matthew Rea, Assistant Editor
Matthew Rea is a senior at RCHS, and this is his first year in journalism. He is an assistant editor for the school newspaper, The Cat's Eye. His favorite...