All RCHS Artwork accepted and displayed at the Young Artist's Gallery
Brushstrokes of deep maroons and azures, figures materializing from meticulous lines of dark ink, and portraits of pedantically placed paper cuttings flourish across canvases marked with RCHS, all paint the scene at the Cal State San Bernardino's Young Artists' Gallery. 
For the first time, Cal State San Bernardino displayed all 10 art pieces submitted by RCHS students in the prestigious county-wide art show that took place from Mar. 15 through Mar. 28 in the Visual Arts Building. 
The Young Artists' Gallery exhibits artwork from students all over San Bernardino County, rewarding the top artists in each category with a ribbon and formal certificate. Having combed through hundreds of submissions and rounds of judging, all art pieces from RCHS were framed in glass at the event. 
The doors of the Visual Arts Building opened at 6 p.m. that Tuesday night, welcoming teachers, students, and families to roam free around the exhibit.
At around 6:30 p.m., the crowd gathered for the award ceremony that awarded four RCHS students for their outstanding art.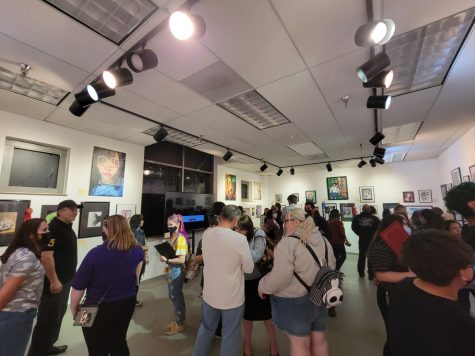 The Submissions: Artistry and Abstraction
In total, 10 pieces from RCHS students were displayed throughout the corridors of Cal State San Bernardino, including six masterful digital art pieces, two creative mixed media pieces, and two impressive ink drawings.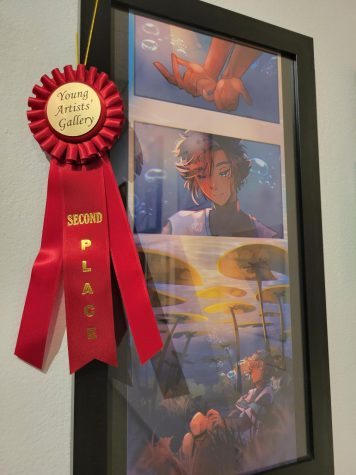 RCHS junior Betty Huynh placed second in the category "comic art" for her piece titled "Immersive." Broken up into three different panels, Huynh toyed with realism, primarily utilizing darker hues of blues and purples peppered with warmer tones that accentuate certain features. 
"I avoided any extreme expressions to preserve the note of serenity present in the whole piece, and limited myself to a mostly cool palette, using only warm tones to accentuate the focal points," Huynh said.
At the top of the piece, slender hands reached up to cup the sunlight that pierced the surface of the crystalline lake. As the light permeated through the water, tiny beams refracted in the character's eyes, who stared lovingly at the ray of sunshine in their hands. The last panel captures the entire atmosphere, the lapping water foaming above tree-like lily pads that stem from the seafloor where the character ruminates in tranquility, basking in the sunlight as they sit on the soft white sand. 
"In my piece, I wanted to visually portray the feeling of taking a moment for yourself. The hands…are a literal representation of seizing the day purely for one's own benefit," Huynh said in a written description about her piece. "I chose an underwater setting because their atmosphere and archetype evoke a sense of unperturbed tranquility." 
Another RCHS piece that hangs in the gallery is junior Samantha Hoffman's "To Be Self-Aware," which depicts a young character standing between a bright, smiling brain and a dull, drunken zombie posed with the statement, "Feed your brain, not the zombie."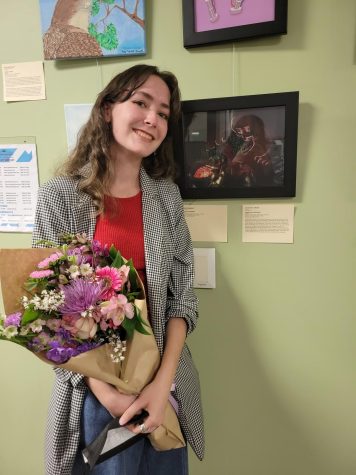 Hoffman said the piece reflects her religious journey and the constant struggle she faced when following her correct path in a world full of distraction.
In her description, she wrote, "I was really inspired to do this piece because of my journey with God. I don't want to end up a zombie, lacking wisdom, fulfillment, and living selfishly…this piece, full of contrast, is all about being self-aware." 
These digital paintings were just two of ten brilliant pieces from RCHS artists displayed at the Young Artists' Gallery. In a room across the paneled foyer, the Gallery showcased several self-portraits. 
Shining in the spotlight was a piece by the youngest RCHS artist, freshman Louis Elias. Titled "Song About Me," Ellias used decorative magazine clippings to express his love for nature. 
Just nearby, "Recipie For Me," by senior Annette Amescua, also caught the eye immediately with its exceptional use of magazine and poster clippings to forge an image that both literally and figuratively reflects Amescua's personality and identity. The piece even qualified for an honorable mention in the Mixed Media category. 
Other honorable mentions included Alexus Deits's "Part of the Family" and Cristina Le's "Self Portrait."
Year 3 and Counting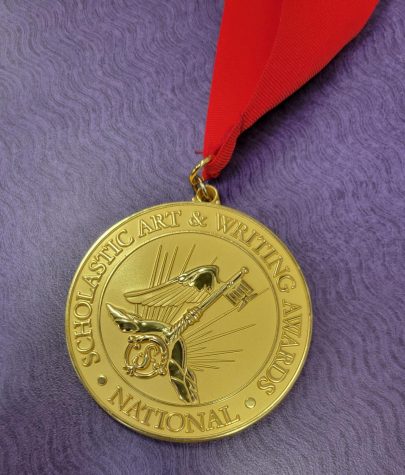 RCHS art teachers Ms. Lisset Becker and Ms. Kathryn Coon have been submitting art and participating in the Young Artists' Gallery for about three years. However, this year was different. After nearly an entire school year of work and three weeks of judging, all efforts have culminated in one of the most successful art shows Rancho has participated in. 
"This year was the best because students who probably wouldn't have submitted, unless I pushed them, actually submitted and were accepted," said Coon. "Not only that, but having my students show up with their families and those moments where you see the excitement on the students' face, their parents are proud, I'm proud, and it's just so cool to see all the hard work pay off. It's kind of magical." 
Aside from the clicking of cameras and the "oohs" and "awes" of the mesmerized guests, the prestigious gallery benefited student artists in many ways apart from just extra publicity. 
"This is a great opportunity for students because they have to be juried into the show, so getting into it is already a big accomplishment. It shows them that there are other people who are working hard to showcase their work and if you get in, there's an honor in itself. And if you place, it's a huge honor on top of that. Students realize that they actually have something unique and special, and you don't have to know how to do this one specific thing, so there's multiple approaches to art. So when a student finds something they can connect with—to me art is 90% effort and 10% talent—and they put in that effort, then they just shine," said Ms. Becker. 
Simply walking through the halls of Cal State San Bernardino and stepping into rooms filled with student-made art was breathtaking, to say the least. From impeccable ink drawings to graphics and self-portraits, RCHS creativity now flows within the veins of Cal State San Bernardino. 
After all, "You don't have to be this 'Da Vinci.' You can just say, 'I like to create,'" said Ms. Becker. 
"
You don't have to be this 'Da Vinci.' You can just say, 'I like to create.'
— Ms. Becker
Leave a Comment
About the Contributors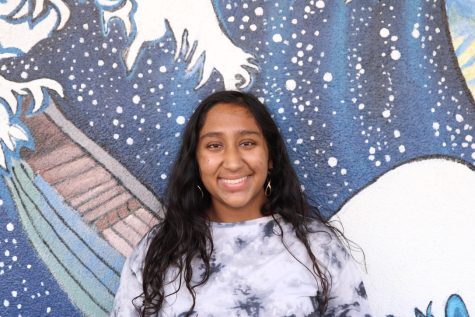 Nimrah Khan, Editor-in-Chief
Nimrah Khan is a senior at RCHS, and this is her third year in journalism. She is the editor-in-chief of the school newspaper, The Cat's Eye. Her favorite...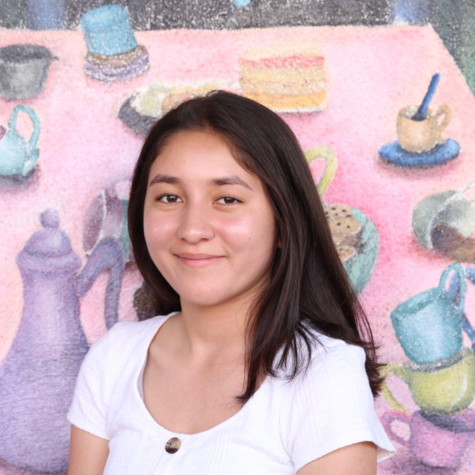 Lauren Maldonado, Student Life Editor
Lauren Maldonado is a sophomore at RCHS, and this is her second year in journalism. She is a staff reporter for the school newspaper, The Cat's Eye. Her...