August is National Dog Month
With the reopening of Rancho Cucamonga High School, August is back to being busy. The harsh transition from Distance Learning to normalcy brings back the stress along with unfamiliar hardships and anxieties. Not to worry, however, for this month is also National Dog Month. 
The Milk-Bone brand (The J.M. Smucker Company) founded National Dog Month in 2020, and many students who have dogs are unaware of this holiday. 
Freshman Trix Wages said, "I did not know August was National Dog Month, but I will definitely celebrate it now." Wages got their dogs, named Korky and Daisy, from an elderly woman two years ago. Since then, they have been Wage's best friends. 
Wage's favorite memory with their dogs is spending time at the park. They said, "We had a picnic with my family and we went to the park with my dogs. They were so happy, rolling around in the grass and playing around." 
Senior Kylie Byron has three dogs, two Dachshunds named Cocoa and Delgado and a Doberman-rottweiler mix named Dakota. Byron said her favorite memory with her dogs is she first got Dakota. Byron said, "when [she] got Dakota …her head was stuck in a fence. She was really shy at first, but when we brought her home, she was super playful and excited." 
Both Wages and Byron believe dogs are special because they can sense and empathize with students when life becomes overwhelming. 
Adrienne Alves, a senior who has two dogs named Lizzie and Boots, said dogs are important because "a dog is a man's best friend, right? They're comforting and they love to be with others to just comfort them. It's also fun to play with them and pet them like that's all they want, just attention." 
Dogs offer a much-needed calm, comforting, safe space for students feeling the anxiety and stress of August. 
Whether you are stressed about returning to a normal routine, anxious about meeting new people, or simply overwhelmed, just remember that August is National Dog Month.
Leave a Comment
About the Contributor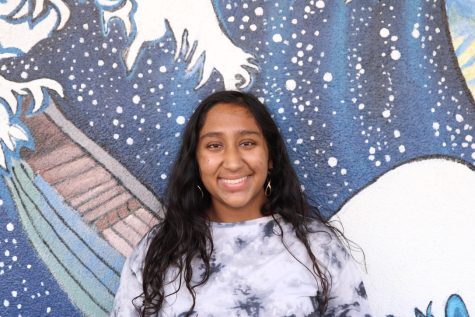 Nimrah Khan, Editor-in-Chief
Nimrah Khan is a senior at RCHS, and this is her third year in journalism. She is the editor-in-chief of the school newspaper, The Cat's Eye. Her favorite...