Finals Week and New Spring Semester Schedule
Rancho Cucamonga High School completed its first semester of distance learning for the 2020-2021 school year, and students completed final exams on December 15-17th.
For finals week, Rancho kept its current distance-learning schedule. Students followed this schedule:
Monday: Zoom with their second-period class at 12:15 pm.
Tuesday: regular schedule for periods 1, 2, and 3.
Wednesday: regular schedule for periods 4, 5, and 6.
Thursday: regular schedule for periods 1, 2, and 3.
There was no school on Friday, meaning after Thursday, winter break began! However, for the second semester, RCHS will follow a new bell schedule for remote learning.
One of the most significant changes to the new schedule is the Monday check-in time. Monday second-period check-ins will now take place from 9:30-10:00 a.m.
For the first week only, Zooms for classes will be 30-minutes long, and teachers will assign asynchronous work for class periods that meet on those days. Zooms will start after lunch at 12:15 and will finish at 1:55.

For the second week onward, each class will be split between 1 hour of in-class teaching and 30 minutes of dedicated support. Teachers will choose and address how they will use the support period for each class.
Lunch will now be from 11:40-12:30, and school will finish at 2:00 p.m.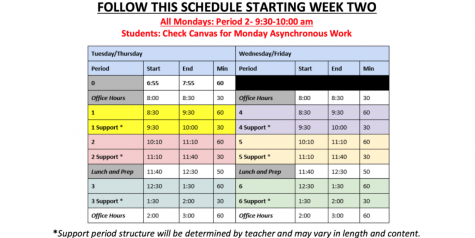 This new schedule will remain intact throughout the second semester until the state and county clear RCHS for a different learning format. This schedule will provide students with extra support.
Students who experienced stress due to finals week should think of the second semester as a fresh start.
The best way to avoid stress next semester is to study the curriculum and use the 30 minutes of support. Although cramming the night before finals and the end of the semester may have seemed like it worked, it is always best to give yourself time for review, practice tests, and to ask questions that may arise.
Keeping that in mind, students, here are some study tips that can be useful this semester.
Ever Cook, an RCHS senior, provides these four tips for notes and reviewing.
"Dividing your notes into sections using titles and subtitles"
"Highlighting and underlining in a consecutive pen color the important terms or phrases"
"Indenting within your notes, for a note that relates to the previous line"
And finally, "read through your notes and pay special attention to the important things you highlighted and underlined."
Here is some advice from Ms. Patton, Rancho's AP Psychology teacher. Ms. Patton said, "Turn off all distractions. We remember what we pay attention to. Do something with the information when you are done. Make a mnemonic, relate to your own life or something you already know. The best way to know if you know something is teach it to someone else. Teach the family pet if necessary but say it out loud to someone."
The second semester is a fresh start, and RCHS is here to help.