The Rancho Cucamonga Cougars defeated Valencia High School 22-20 on Friday, Sept. 8 to win the homecoming game this year, making their record 4-0 for the season
The Cougars maintained a steady lead throughout the game. The Cougar's offense started off strong with two touchdowns in the first quarter, making the score 12-0. The first two touchdowns were a receiving touchdown from senior Nehemiah Harrison and a rushing touchdown from sophomore quarterback Jacob Chambers.
The Cougars managed to score their first touchdown with the assist of Harrison's quick first step. Harrison used his speed to his advantage, which was evident with his other touchdown later in the fourth quarter.
Harrison said that it was an overall good win, but the team still had apparent weaknesses.
"Some of our weaknesses are that we do come out soft sometimes which we shouldn't, and we should always just come out 100%," Harrison said.
The Cougar's next game is against the Bishop Amat Lancers on Friday, Sept. 15 at 7 p.m., and the Cougars said their main goal is to keep everyone on the same page, so they can come out victorious.
"This game is gonna be a challenging one," coach Brian Hildebrand said. "They are a good program, good team, talented, and so for us just continuing to work on ourselves and getting better and making sure that we're putting guys in the best position to make plays and be successful."
Hildebrand believed that the Cougars did just enough to win the game against Valencia, but the team still needed to work on things to improve.
"Overall I thought we started out fast and then we made too many mistakes in the second half, and too many penalties but overall they played pretty well and fought hard for the win," Hildebrand said.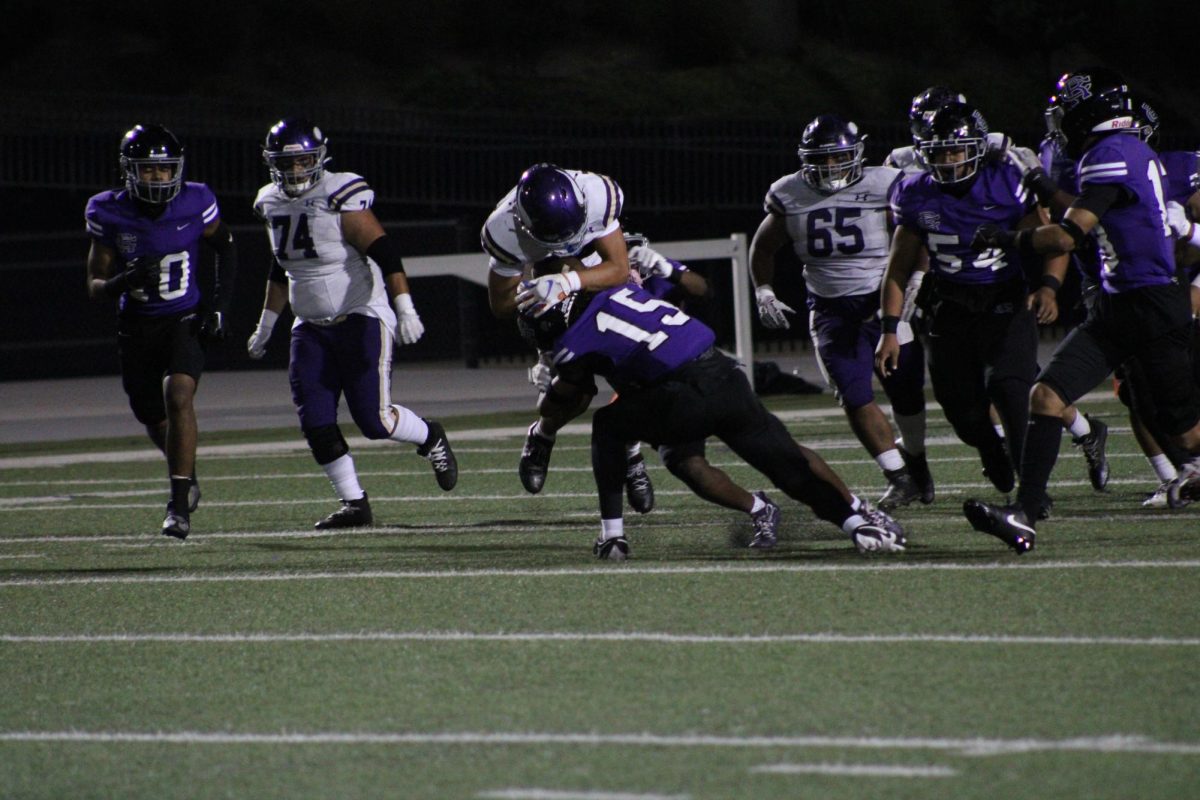 The Cougar's win was hard fought against the Valencia Vikings and was considered nerve-racking to some players. Senior kicker Alonzo Browning explained his emotions before and after his field goal late in the second quarter, which made the score 15-10.
"Moments before I was a little bit nervous, but as soon as it got past my range I felt more comfortable, and as I got on the field I heard people screaming and chanting, but all I could think of was me, my long snapper Zen, and my holder Nemo," Browning said.
While it may seem that the Cougars were in charge the entire game, late in the fourth quarter it was a two-point game because of the Vikings' touchdown and field goal.
The Cougar's win put them as 4-0 for the season. According to Max Preps, the team is currently ranked 21st in the state.