The forgotten and snubbed genre of the Oscars
Picture this, the commercial break ends and the music commences as two unlike celebrities walk onto the stage to present another award, naming off a list of dramas and comedies until finally commending the well-known recipient, leading to a never-ending speech. Years and years of award shows, movies, actors, actresses, directors, composers, and more were celebrated for their incredible works, however, one genre has been shunned time and time again, horror. 
This genre invites frightening scenes and possibly disturbing images to send its viewers into a heart-racing state of shock and terror. Nevertheless, there is more to it than just blood and guts. When we first think of horror, we see an innocent babysitter being stalked by a man in a white mask, a terrified teenage girl riddled with the idea of one of her own friends donning a ghost-like suit to hunt her down, or even a serial killer turned voodoo novice looking for a quick escape from death. 
All things considered, these do sound outlandish and out of the ordinary, however, horror is one of the most progressive genres out of them all. Horror delves into themes such as generational trauma, societal issues, and the monstrosity of human nature. Along with this, horror is well known for its queer representation and diverse casts. Yet horror is still disregarded in consideration for awards commending people for such great works. The Oscars consist of 24 categories with five nominees for each. In all of the Oscars 95-year history, only 19 horror films have won the awards they were nominated for. 
Some of the Academy Award-winning movies include John Landis' "An American Werewolf in London," winning in 1982 for best makeup, Tim Burton's "Beetlejuice" in 1989 for Best Makeup and Hairstyling, Jordan Peele's "Get Out" in 2018 for Best Original Screenplay, Best Picture, Best Actor, and Best Director, James Cameron's "Alien" in 1980 for Best Visual Effects and Best Product Design, Rob Reiner's "Misery" in 1991 for Best Actress, and 14 more. One of these includes the very well-known, "The Silence of the Lambs," released in 1991 and directed by Jonathan Demme. 
In 1992, Demme and the crew were awarded what is known as the "Big Five," which includes Best Picture, Best Director, Best Actor, Best Actress, and Best Screenplay.
"It was really well deserved," senior Izzaya Gonzalez said. "Jonathan Demme is a really good director, and Jodie Foster and Anthony Perkins gave amazing performances." 
Gonzalez is part of the RCHS TV Bulletin and is planning on attending Art Center College of Design to major in film. Gonzalez mentions that the Oscars as a whole is more of a popularity contest than actually acknowledging great works of art.
"You can tell what movies are made to be Oscar bait, people usually point out big name films,"  Gonzalez said.
With this comes a term many film geeks know as "Oscar bait." As it states in the name, Oscar bait movies are specifically made in order to win awards, even if it may lack structure of story or adequate performances, we will always see these movies nominated. 
The Academy is responsible for all voting and awarding for these different categories, however, the process of becoming a member raises some suspicion if these nominations are authentic or simply favoritism. 
In an article from Vanity Fair, published on Feb. 27, 2023, entertainment journalist Chris Feil explains how voting for the Oscars and joining the academy occurs. The only way to become an Academy member is to be sponsored by two existing members of the respective branch you are looking to join. These branches refer to the different categories of awards, which consist of hundreds of members all voting within their category, with few exceptions. The methods of this lead to question the legitimacy of the Academy's viewership from the movie lovers.
"There's a lot behind closed doors, you never know who is watching what and if they are really watching the movies," Gonzalez said.
As the new list of this year's Oscars nominations was released, it was already apparent that the snubbing for horror happened again.Though it is wrong to say some films are completely unworthy of their nominations and awards. For example, "Everything Everywhere All At Once" released March 11, 2022, was nominated for 11 awards and won ten of the nominations. 
This movie has been highly praised since hitting theaters, telling the story of a mother experiencing a multiversal rupture, while actively learning to accept her daughter for who she is and mend their relationship. 
"I hope 'Everything Everywhere All At Once' wins every award presented at the Oscars this year," Gonzalez said. 
However, there are movies that were nominated that received the opposite reaction from many fans. "Blonde" released Sept. 16, 2022, was nominated for Best Lead Actress for Ana De Armas, though it was negatively viewed on rating sites, such as IMDb, Rotten Tomatoes, and Metacritic.  
Along with this, there have been many viewers claiming the fact that there is a "certain type" of movie seen being nominated and winning each year. 
A genre many of us are forcefully familiar with is the biopic, which has become much more popular in recent years. Movies like "Elvis", "Bohemian Rhapsody", and even "Braveheart" have all been nominated for Oscars. Many believe movies like this are undeserving, all of them following the same formula and made to appease the older audience. 
Leading back into the horror genre, 2022 is known as a "golden age" year for horror, as we received movies from acclaimed directors such as Jordan Peele with "Nope" and Ti West with "X" and "Pearl," while also seeing original stories from lesser-known directors like Zach Cregger with "Barbarian". 
As many know, Jordan Peele has been indulging in the genre ever since his 2017 film "Get Out." Since then Peele has written and directed "Us" in 2019 and "Nope" in 2022, both telling authentic stories while giving starring roles to well-known and talented Black actresses and actors, such as Lupita Nyong'o and Daniel Kaluuya. Though both films were highly praised across many rating platforms like Rotten Tomatoes (Us, Nope), neither were considered nor nominated for an Oscar. 
Nyong'o showed her wide range of talent when she played both the protective and underground antagonist Adelaide Wilson and the demented revenge-seeking character of Red. However, she was not as lucky in receiving nominations for her work as she was in 2014 when she won best supporting actress for her role as a slave in the film "12 Years a Slave." 
"I was very confused because the role where she played two completely different characters still wasn't a good enough performance for an award, but the other role was?" senior Gaelle Jean-Pierre said.
Jean-Pierre is a future Business of Cinematic Arts major at USC, and she says that although she may have a love-hate relationship with the genre, she still believes the films reach the same standard as other genres.
When it comes to "Nope," the film was recognized for its amazing cinematography that helps tell the story of exploitation, spectacle, and horror. Cinematographer Hoyte Van Hoytema captured the grand scope of Peele's imagery through dazzling techniques, like the illusion of darkness. A large part of the movie is staged during the nighttime, showing the horror of discovering a monster in the darkness; however, the scenes were not shot at night. 
In an interview with Variety, Peele sheds insight on Hoytema's mind-breaking technique. 
"The night shots, for the most part, were shot in the day, which is due to a technological and strategic thing that [Hoytema] brought to the table," Peele said in the interview. 
After all the praise for the film received, it was still not recognized at the Oscars. Although most snubs do not cause much of a stir, Peele's film was met with opposite reactions.Many fans were upset at the Oscars' decision to completely disregard the science-fiction horror movie. In an article on the Daily Bruin news site, journalist Breanna Diaz discusses her thoughts on the snub on the 2022 film.
"'Nope' is one of the worst instances of an impeccable film getting no recognition from the Academy," Diaz said in the article. 
Another acclaimed film, which also received great reviews is Ti West's 2022 horror slasher "Pearl." The film, featuring star Mia Goth, was the sequel prequel to the 2022 film "X." The two movies were shot during the same year and released only months in between upon the major success of "X." Within "X," Goth is seen playing two characters, one being the fame seeking adult-film star Maxine Minx, and the other being the older regretful fame-failure Pearl. However, "X" is not the film people are angry about.
"Pearl," the technicolor film taking place in 1918 during the influenza pandemic, tells the story of a younger Pearl from "X" seeking fame and wanting to live a better life to escape the torment of her mother. Goth's performance in the film has been a hot topic in the horror community because of how she depicts Pearl's confusion in who she is and the fear she has with who she's becoming, coupled with the fact that she wants to be a star and will go to great lengths to prove she deserves it. 
One of the most remarkable instances of Goth's talent is when she delivers an unbroken monologue in the horror film. The eight-minute monologue stuck with many people as it exposes the true darkness inside of Pearl's mind. 
In an interview with the news site Bloody Disgusting, West reveals how difficult and meticulous the filming process of the monologue was, stating how even one mishap would set them back to the beginning.
"As soon as she started the monologue, it was like, if anyone had a problem, you had to say it then," West said in the interview. 
However, after all the praise Goth had for her performance, there were no nominations from the Oscars to be seen, which again angered many fans such as the issue with "Nope." 
It is clear that the Oscars will never recognize the horror genre to its full potential because of the gore masking the academy's perception of the amazing performances and originality of the stories being told. 
Luckily, the Oscars is not the only opportunity for recognition for the genre. Many other award shows, such as film festivals or fanmade shows give horror a chance to get the praise it deserves. One of these includes the YouTube channel Dead Meat's award show, "Dead Meat Horror Awards." This channel puts the genre on the forefront, showing the good and bad from the movies over decades of scares. The award show excludes all other genres of film and focuses on horror to commend them for their great works. 
Although we may never see horror movies and the crew involved being congratulated for the films they put hard work into making in the major award shows, we can always look to horror fans for sticking up for the genre. 
Leave a Comment
Your donation will support the student journalists of Rancho Cucamonga High School. Your contribution will allow us to purchase equipment and cover our annual website hosting costs.
About the Contributor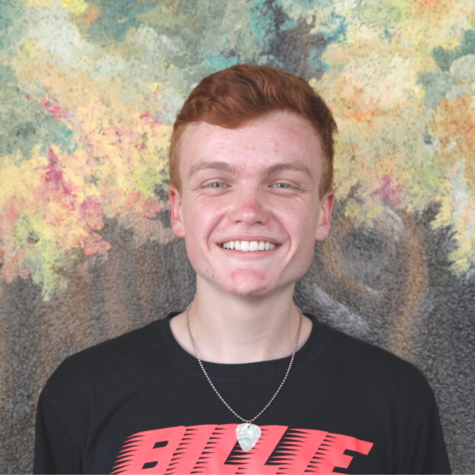 Ty Waymire, Staff Reporter
Ty Waymire is a senior at RCHS, and this is his first year in journalism. He is a staff reporter for the school newspaper, The Cat's Eye. His favorite...