Powder Puff girls prepare for their highly-anticipated game
Beginning on Tuesday, Feb. 21, Powder Puff officially kicked-off its season to prepare for the game happening on Mar 17, 2023. 
According to RCHS football coach Mr. Brian Hildebrand, this will be "the second consecutive year that the football program has held the powder puff game."
"The game was a tradition in years past, but it hadn't been played for 7-8 years, so we were excited to bring it back to Rancho," Hildebrand said.
Assisting Hildebrand, some of the players from the football team are helping out with teaching the girls the rules of football, how to play and how to win. 
"There isn't a major difference between the boys and girls," Hildebrand said. "The girls are competitive and eager to learn but the biggest difference is they don't come with the basic football knowledge we get with guys that have been playing football for a while, so it gives me a chance to coach the basics of the game."
Powder Puff is essentially a girls flag-football game where RCHS juniors and seniors compete against each other. Last year, the class of '23 lost against the class of '22. According to senior Marissa Zendejas, the loss was only "by a field kick."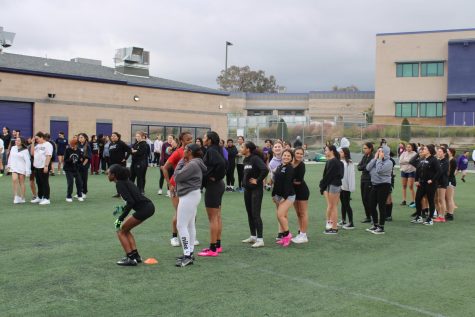 "I 100% believe the seniors will win this year. We're confident and it's gonna happen," said Zendejas.
This year, the class of '23 is coming back with vengeance as they practice week after week to improve their skills. Practices take place every day after school from 4:15 p.m. to 6:15 p.m.
"I'm having so much fun and learning new techniques and new rules about football," said senior Mariam Gabbra at the first Powder Puff practice.
"
I'm having so much fun and learning new techniques and new rules about football"
— Mariam Gabbra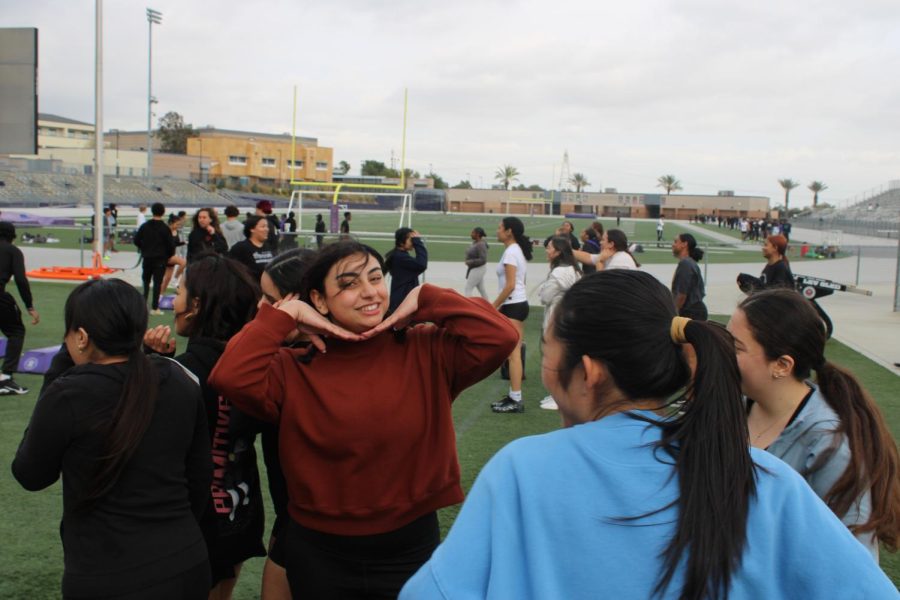 Just like football, Powder Puff has various positions, and along with them, representatives from the RCHS football team of the same position coaching them. Senior and varsity football player, Pablo Estrada is serving his second year as the defensive lineman coach, however, this is his first year coaching for RCHS.
"I came from a school called Chino High School, and this is my second year coaching cause I coached over there," said Estrada. "I'm very excited for this Powder Puff game. We've already been doing a pretty good amount of work in these practices and I'm looking very forward to showing off what these girls can do."
Aside from defensive lineman, other positions include the quarterback, offensive lineman, running back, and linebacker.
"I started out as a linebacker but switched to o-line," senior Elyse Turner said. "I play tackle right and sometimes guard."
Practices will continue to take place until the one and only game this year taking place on Friday March 17, 2023, at 6:00 p.m.
Leave a Comment
Your donation will support the student journalists of Rancho Cucamonga High School. Your contribution will allow us to purchase equipment and cover our annual website hosting costs.
About the Contributor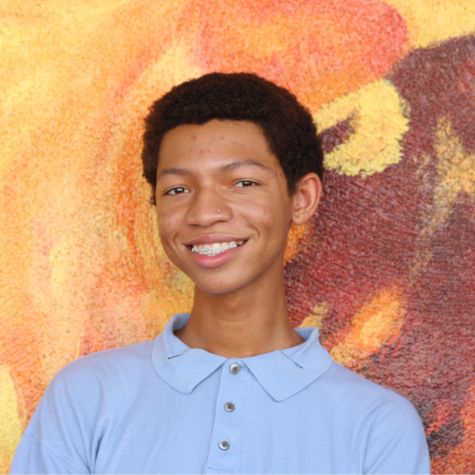 Lionel Getten, News Editor
Lionel Getten is a senior at RCHS, and this is his first year in Journalism. He is the news section editor of the school newspaper, The Cat's Eye. His...