Super Nintendo World officially opens at Universal Studios Hollywood
Since the mid to late 1900s, Nintendo has created incredible games that are instilled in many peoples' childhoods, most notably, the Mario games. Now imagine walking through that very same world, admiring piranha plants and shaking hands with beloved characters.
That dream is now a reality!
Universal Studios Hollywood opened Super Nintendo World to the public on Friday, Feb. 17. To gain entrance, people must have a reservation or wait in person to be admitted. While still exclusive, with guests queuing up to two hours just to enter the area, Super Nintendo World captivates fans with breathtaking architecture and detail akin to many beloved Super Nintendo games. Super Nintendo World is perfect for any Nintendo fanatic.
I visited the park on Monday, Feb. 20 with a reservation to Super Nintendo World, and I was blown away.
In Super Nintendo World, guests will find the Toadstool Cafe, the 1-Up Factory, and the Power-Up Band vendor, who sells wristbands that interact with different areas of the park. Super Nintendo World also introduces the brand-new trackless ride Mario Kart: Bowser's Challenge!
After taking pictures with the famous Super Nintendo World sign, guests must walk through a giant green warp pipe studded with colorful lights. Whooshing sound effects add to the experience as if each person is transcending dimensions.
The other side welcomes guests with a red carpet down the center of Princess Peach's stunning gilded castle.
References to previous Mario games lay hidden in every nook and cranny of Peach's palace, from the Super Mario 64 shape-shifting picture frames, to a wall of power-up blocks, and even a hidden hologram of Princess Peach's original character design.
Exiting Princess Peach's grand castle, guests officially step into Mushroom Kingdom, one of the many maps featured in the Mario games.
Against the backdrop of rolling hills sit shiny spinning coins, piranha plants, and Koopa Troopas. Several other characters, including Yoshi, can also be seen walking along the tiered landscape in the distance. It would take hours to fully appreciate every single detail.
Directly across from Princess Peach's castle lies the Toadstool Cafe. Hungry guests lucky enough to secure a reservation, which must be done as soon as one enters the land, are treated to an array of Mario-themed snacks, meals, and desserts.
Unfortunately, I was not able to secure a reservation at the restaurant because it had reached capacity by 6 p.m. However, some of the top options include the Princess Peach Cupcake, Toadstool Cheesy Garlic Knots, and the Piranha Plant Caprese.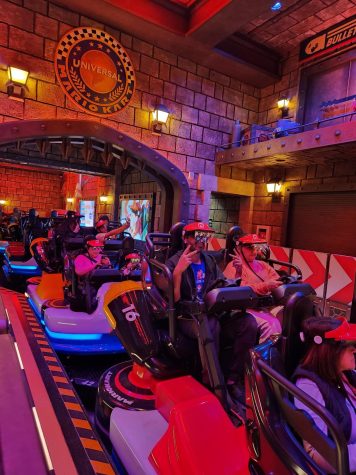 Behind the cafe, however, stands Bowser's castle. The spiny turtle's dark stone fortress shadows its vibrant surroundings as a giant statue of Bowser's head overlooks Mushroom Kingdom.
The gaping palace doors lead to the newest ride at Universal Studios Hollywood, Mario Kart: Bowser's Challenge.
The highly-anticipated attraction is a dark, trackless ride that transports guests into the world of Mario Kart. After strapping into Team Mario helmets and lining up at the starting line, a blast of air begins the race against Team Bowser.
Boasting reality-augmenting goggles, the 3D and 4D effects bring the entire Mario Kart universe to life. At each turn, riders swerve through item blocks, shoot turtle shells, and collect coins as they travel through nostalgic Mario Kart maps.
The ride ends with a visually spectacular and immersive experience of Rainbow Road. Bright colors fly past riders as the floor in front of them transforms into a blur of multicolored craziness.
The land is enough to drive any Nintendo fanatic through a world of nostalgia and amazement, but Mario Kart: Bowser's Challenge is a trip in and of itself.
Leave a Comment
About the Contributor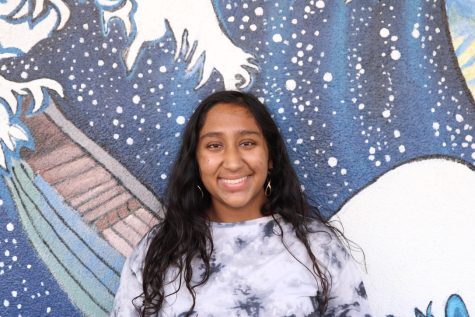 Nimrah Khan, Editor-in-Chief
Nimrah Khan is a senior at RCHS, and this is her third year in journalism. She is the editor-in-chief of the school newspaper, The Cat's Eye. Her favorite...