Girl's Wrestling faces Bloomington High School in an noteworthy match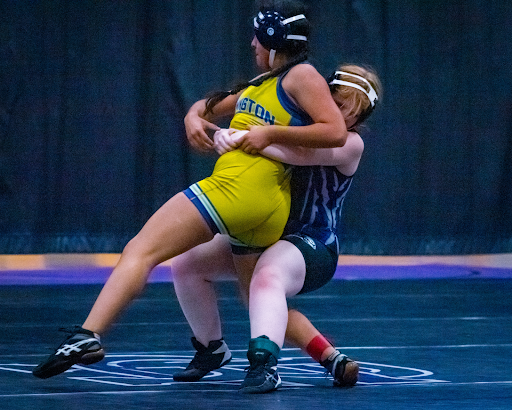 The RCHS girls wrestling team faced Bloomington High School in a home match hosted at RCHS on Thursday, Dec. 8. The girls were the first four to start in the match along with the boys, and had Rancho out to an early lead.
The girls played four matches and went 3-1. The final score after the matches was 18-6 with Rancho showing dominance throughout the whole way.
"I think we did great against Bloomington," sophomore wrestler Emma Estrada said. "We won by giving it our all."
Head wrestling coach Justin Cutbirth said he was very pleased with the results against Bloomington.
"The girls wrestled really well. I was pleasantly surprised at how well they [performed]," Cutbirth said. "I think the dedication in the weight room and with conditioning has paid off very well."
League matches started on Thursday, Dec. 22 against Los Osos. The team said they were eager to compete against tough opponents and demonstrate their abilities on the mat for the remainder of their league matches.
Los Osos High School defeated the girls wrestling team on Thursday, Dec. 22 with a final score of 0-12. Many of the girls were excited to show what they have learned and how they have grown on the mats.
"I hope we have more achievements as a team," junior Mia Alvarado said.
Alvarado, part of the team, has really grown with her teammates, and she said she really appreciates the impact they have made.
"I hope to learn more with my teammates and to grow with them," Alvarado said.
As the season continues, the girls team hopes to build off the strong start to their season. The team is looking forward to the rest of the year.
"I look forward to seeing how we stack up with the rest of the league. I'm really anticipating and excited about getting out there and having more matches with them," Cutbirth said.
Leave a Comment