RCHS advances Gender Inclusivity in sports this year
For the past 30 years of RCHS history, volleyball was only offered as a girls sport. But this year, a PE instructor and volleyball coach bridged the gap between gender and volleyball on campus. 
Head boys volleyball coach and P.E. teacher Ms. Jodi Postlmayr officially created the first boys volleyball team at RCHS this year. 
"It is great for our school to offer this opportunity to those who have been training and practicing along with creating a new interest for an awesome sport," Postlmayr said.  
The idea for a boys volleyball team originated just before quarantine during the 2019-2020 school year.
Postlmayr was inspired by students she observed who were interested in the sport. 
"Students over the years have been interested," she said. "Recently there have just been so many that are now playing club, and they deserve to play with a Rancho uniform." 
After quarantine ended, Postlmayr got a new part-time job as an assistant coach for women's volleyball at a college, stalling the progress on the formation of a boys volleyball team. 
When Ms. Tiffany Johnstone took her place as coach of the girls volleyball team, Postlmayr was able to focus on creating a boys team.
"Rancho has been trying to start a boy's program for years and years. It's finally happening!" Postlmayr said regarding the process.
One reason why it took nearly 30 years to create, Postlmayr said, was because of equity.  
"There are a few reasons that the program has not started before now. One is equity, having the same number of sports available for each gender, number of people and opponents interested in playing, and cost to fund another program." 
Postlmayr was referring to Title IX, a law passed in 1972 that ensured all students would receive the same freedoms and opportunities regardless of gender. Hence why RCHS introduced a girls golf team prior to the boys volleyball team. 
Acquiring a boys volleyball team still took quite some work. Many other schools had already implemented a boys team, which was more motivation for Postlmayr. 
"As soon as word spread that local schools had teams the work began," she said. "At lunch, the school bulletin and word of mouth, we asked for any and all boys' supporters at Rancho." 
After gathering the support of about 150 people and the district, the boys volleyball team was born. 
"We accumulated a list of the interest (approx. 150 people) and the district worked with our athletic director, etc. to make it happen for us," Postlmayr said.
Tryouts took place on Oct. 28 and Nov. 4 at 6:30 a.m., producing an 18-man team narrowed down from more than 100 students. 
Postlmayr said, "[The tryouts] were awesome! Great turn out with numbers more than 100 awesome students. They made the job of choosing team members very hard."
Senior Vincent Huynh, who attended the tryouts, felt elated to hear that RCHS formed a boys volleyball team. Before, Huynh played volleyball at various gyms that catered to the sport. 
"I did not play at any clubs, but there were volleyball open gyms I frequently went to," Huynh said.
Now, Huynh plays volleyball with an RCHS uniform. 
"Bringing boys volleyball to the school gives lower and upper classmen an opportunity to try new things and get into the amazing sport of volleyball," said Huynh. "It also provides competition to boys already into volleyball!" 
Another student who tried out for the team was sophomore Ethan Lee.
"It was really fun and the energy was there," Lee said.
There were also hopes for JV and varsity teams, but this was unable to happen. 
Despite this, Postlmayr hopes to grow, develop, and improve boys volleyball at RCHS moving forward. 
She said, "there are very talented underclassmen that will develop and have the experience this year [and that] I think they will spark interest for more athletes and continue to build off this foundation. I can't wait to see the team play the first ever RCHS Boys volleyball match!" 
Huynh agrees and anticipates an incredible with the new team.
"I think there is a promise with the boys we have currently," said Huynh. "I think with proper coaching and practice, we can make it very far."
Leave a Comment
About the Contributor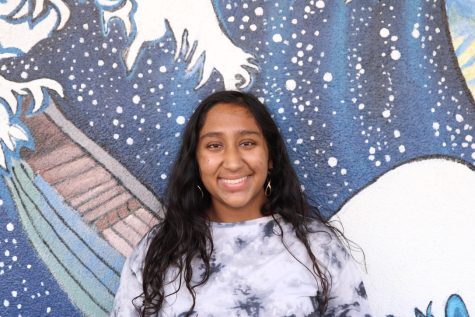 Nimrah Khan, Editor-in-Chief
Nimrah Khan is a senior at RCHS, and this is her third year in journalism. She is the editor-in-chief of the school newspaper, The Cat's Eye. Her favorite...