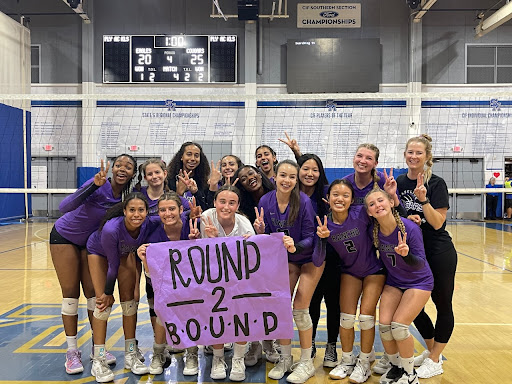 Photo Courtesy: Tiffany Johnstone
Girl's volleyball finishes season in CIF
After the 3-1 win against Upland in the last regular season game, the girls volleyball team headed off to CIF (California Interscholastic Federation) playoffs. Their first match in the first CIF round was against Santa Margarita High School, a Trinity League private school. In the first round of CIF, the The Cougars defeated Santa Margarita Catholic High School, final score was 3-1. However, their CIF journey was cut short after a 0-3 loss against Temecula Valley on Oct. 23.
 "This was a tough loss, after coming off a victory against Santa Margarita Catholic High School," head Volleyball coach and science teacher Ms. Tiffany Johnstone said.
After the loss, the season was officially over. RCHS finished with an overall record of 12-20, and they had a 6-4 record in the Baseline League.
"Although we prepared with film and scouting reports, we did not play with the passion, effort, discipline, or drive that it takes to beat a team like Temecula Valley," Johnstone said.
 Earlier in the season, on Wednesday, Oct. 5 2022, the Etiwanda Eagles hosted the Rancho Cucamonga Cougars Volleyball Team at Etiwanda High School. Being rivals, it's a yearly match-up that both teams prepare all year for. Etiwanda ultimately took the win with the final score being 3-1.
"The game was mentally challenging and extremely competitive which made it exciting," junior Mya Simmone said. "Rivalry games are always filled with a lot of emotion and excitement, no matter the sport and the competition levels of both teams." 
Simmone also added that Rancho "had so much energy" playing Etiwanda since they were rivals, making the game mean much more than others. At the end, Simmone felt down but in the end, "felt supported by my team."
It is on to the off-season now for the Volleyball squad, as they hope to improve off a season of hope and perseverance. 
"In the off-season, we will work on strength and agility to improve for next season. In addition, most of our athletes will either play club volleyball or play another sport on campus," Johnstone said.