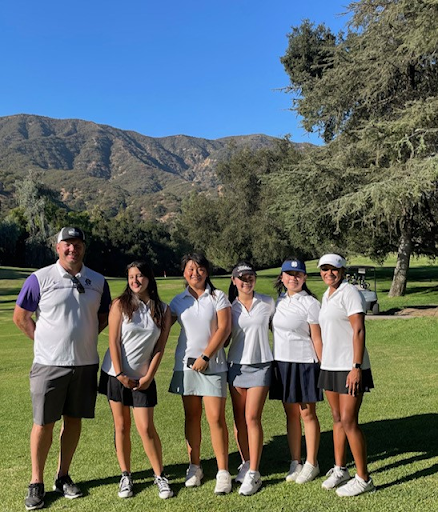 Photo Courtesy: via @RCHSGOLF on Twitter
First girl's golf team celebrates historic win
RCHS's first-ever girl's golf team ended its first-ever season. 
The RCHS girl's golf team was started because many girls wanted golf to be for girls, and they wanted equality in the sports for girls and boys, according to golf coach Mr. Dale Rogers.  
The girls' season highlight was winning their first match ever at St. Lucy's. It was a memorable highlight for the team because it was the first-ever girl's golf win in RCHS's 31-year history. 
According to Rogers, the importance of this team was to give girls an opportunity for a sport they like and show their talents and the possibility to earn a scholarship. 
"The girls played well. They all did good and played to the best of their abilities and showed out, but I think the girls will improve more next year, and I hope more to join," Rogers said.
Rogers said he hopes more girls will join the team throughout the year and that they learn more skills and show their talents.  Rogers said he is glad the girls had the opportunity to start the first girl's golf team. 
The girls came in with not much skill in golf, but over the season, they got better and improved, and they think next year they will be even better, Rogers said.
Most of the girls on the team were all beginners, but they still showed out and played very well for them to be beginners, said the girls of the RCHS girl's golf team. 
"Since it was the first year, overall, we played to the best of our advantage, but next year I think we will be even better," freshman Emily Zhang said. 
Zhang is one of the first members of the team. She has been playing golf outside the school for eight years and made it to the second round of CIF playoffs. She said she plans to continue playing golf for RCHS through her senior year.
"The girl's golf team played well for it being RCHS's first year having an all-girls golf team," and there is always room for improvement. They hope to improve and gain more skills for next season, coach," Rogers said.