AP Physics holds mousetrap car race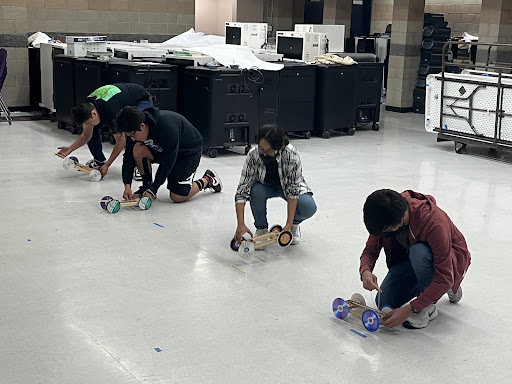 The RCHS AP physics class held a mousetrap car race in the MPR on Tuesday, April 19, 2022. The cars were made for an assigned project and were ranked on the distance they traveled when students launched them. 
   The AP physics teacher Ms. Karen Gerdes was very glad to be able to do this activity and have fun with the students. Gerdes said, "It's good to be back in person so we can be able to do these kinds of projects." 
   RCHS senior Tyler Holland said he made his mousetrap car with building bricks and was excited to let his car race. Holland said, "We had to build a mousetrap car so the power of the mousetrap would make the wheels spin and I feel really good about my car, we used legos to build it." 
   Holland's partner, RCHS senior Juliana Barron said she was confident in their Lego brick car going a far distance. Barron said, "The car is made of Legos and took three days to make. It's called the Dub because we're gonna win." 
   RCHS senior Luo Zixiong said he made his car out of a box and discs, hoping to get past a 10 meter distance. Zixiong said, "I made my car on Monday out of a box and CDs for the wheels. I am nervous, I think mine is gonna go past 10." 
   RCHS senior Ana Brambila said she used lots of materials for the project and named her car Tonka. "My car is a little lightweight but it's okay. I used three tubes of super glue and named it Tonka," Brambila said "I am a little scared of it, but I think it'll survive." 
   The mousetrap car race was a fun event where AP physics students were able to demonstrate their understanding of physics concepts in motion and to see the students' projects in action.
Leave a Comment
Your donation will support the student journalists of Rancho Cucamonga High School. Your contribution will allow us to purchase equipment and cover our annual website hosting costs.
About the Contributor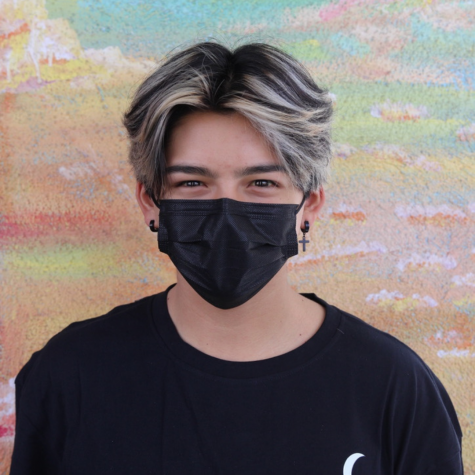 Luca Castaneda, Staff Reporter
Luca Castaneda is a senior at RCHS, and this is his second year in journalism. He is a staff reporter in the school newspaper The Cats Eye. Luca is interested...