Women's History Month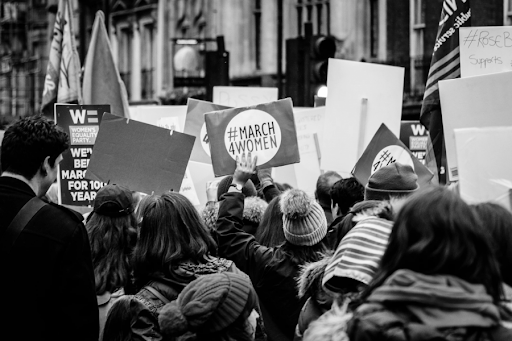 Women's History Month is dedicated to the appreciation and celebrations of women's contributions to society and their achievements. From Mary Wollstonecraft to bell hooks, Ruth Bader Ginsburg to Angela Davis, Elizabeth Cady Stanton to Emma Watson, many women influence the month of March. 
Women's History Month began as a local "Women's History Week" in Santa Rosa, California in 1978, according to womenshistory.com. The organizers chose the week of March 8 to correspond with International Women's Day. Clara Zetkin proposed the idea of International Women's Day in 1910 and the day was first celebrated on March 19, 1911. However, the date changed to today's International Women's Day, March 8, in 1914. Women's History Week did not turn into Women's History Month until 1987, when Congress passed Public Law 100-9, establishing March as Women's History Month. Since 1995, each President of the United States has had annual proclamations designating March as Women's History Month.
Throughout history, women like Elizabeth Cady Stanton and Mary Wollstonecraft advocated for women's rights and achieved what seemed to be the impossible. Observing and celebrating Women's History Month honors all women who have fought for the women's rights we have presently but also appreciates the growth of women today.
Women's contributions and achievements in leadership, medicine, mental health, STEM, education, literature, creative arts, athletics, etc, helped shape our society today. Rosalind Franklin's work was vital to understanding the structure of DNA, and Mary Shelley's writing influenced literature, as her story Frankenstein is considered a classic. Authors consider her a beacon for writing prose. 
Women's History Month acknowledges all women throughout history regardless of their skin color or gender identity. Marsha P. Johnson was a black trans activist who advocated for gay rights and was one of the prominent figures in the Stonewall uprising of 1969. 
All women during Women's History Month are appreciated for their contributions. All of women's achievements are remembered and celebrated. Women's History Month means a lot to many women around the country, and it's essential for young girls to see that women are important to society. 
Leave a Comment
Your donation will support the student journalists of Rancho Cucamonga High School. Your contribution will allow us to purchase equipment and cover our annual website hosting costs.