RCHS Wrestling Competes Against Upland
The RCHS boys wrestling team was pummeled by Upland High School during their match on Wednesday, Jan. 5. However, RCHS wrestling redeemed themselves with a tie from the girls varsity teams and a win from junior varsity. 
The junior varsity wrestling team soared past their opponent with a skyrocketing score of 66-18 followed by a 24-24 tie from the girls varsity team. The night ended in defeat with the varsity boys wrestling team losing 12-72. 
RCHS senior and varsity wrestler Dayton Ortiz led the boys varsity team with a total of 9-0 individual points, subsequently scoring six team points after pinning his opponent. 
"The highlight of my match," Ortiz said, "was smiling to the camera as I pinned the guy." Ortiz also said another highlight of the match was "watching the heavy-weights wrestle." 
Regarding the tie between the girls varsity teams, RCHS senior and girls wrestling team captain Evelyn Dalida said, "I think it was pretty cool because we have a pretty small girls team as it is." 
In fact, RCHS wrestling has recently achieved quite a lot. As of January 8, Dalida said, "We placed second in the Ayala High School tournament out of 10 schools." 
In the future, the team hopes to move up in rank by winning their first league win of the season. In fact, RCHS wrestling placed 4th out of six schools in their recent tournament, whereas in previous years, they had not even placed. 
"We're hoping to get our first league win of the season," Ortiz said.
Wrestling is a sport that lies in the hearts of its players. Dalida said she enjoys wrestling because her brother and dad were in wrestling, and she wanted to give it a chance.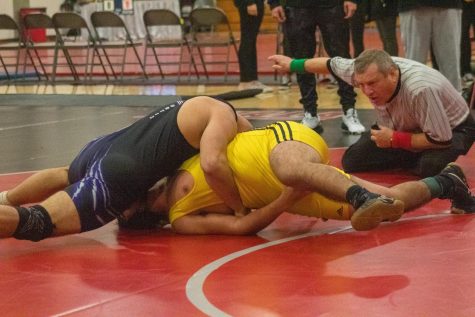 "Someone I look up to is coach Dalida because he helps me by critiquing how I wrestle and I practice and that helps me during my matches," Dalida added that she takes inspiration from her fellow team captain, RCHS junior Seanna Almendarez
Ortiz also shared his motivation to play the sport. He said, "Andrew Sparks was the first California State Champion to not have any wrestling experience before his freshman year, and I look up to him because I started freshman year as well." 

Team captain Almedarez said she joined because "wrestling has helped me find my identity and become confident in myself." 
Wrestling coach Cory Colbath said the match on Wednesday, Jan. 12 was canceled due to COVID-19 and the final match was girls varsity on Saturday, Jan. 29.
Leave a Comment