RCHS' New School Nurse, Ms. Warren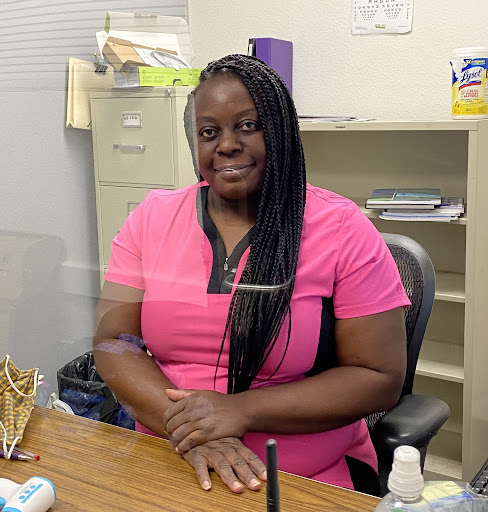 This 2021-2022 school year, Rancho Cucamonga High School gained a new school nurse, Ms. Yolanda Warren. Warren likes to hike and travel, and a place she enjoys hiking is Etiwanda Falls. She also enjoys hanging out with her three children. She has 7-year-old twins and a daughter who is currently a high school freshman at Summit High School.
Warren wanted to work at RCHS as a school nurse because she loves helping kids. She also graduated from the Chaffey Joint Union High School District, graduating from Chaffey High School. 
When it comes to being a nurse, Warren loves helping the kids and seeing the growth and maturity process of students from their freshman year to senior year the most. Warren said, "Seeing the whole process, and hopefully having a positive impact on that process." Warren is excited to see how the school year progresses.
The ongoing Covid-19 pandemic adds to Warren's responsibilities as a school nurse. According to Warren, she will help make sure students who have COVID symptoms don't spread the virus to other students so they can help maintain a healthy student population. Furthermore, there are pandemic guidelines students have to follow when coming into the nurses' office. 
Warren said that students should come in wearing their masks above their noses and to not come in past the office's purple door if they are experiencing Covid symptoms. 
Warren reminds students to stay home if they are experiencing symptoms of Covid-19, which include a fever, sore throat, cough, chills, and difficulty breathing. 
Warren would like to add a message for all students. She said, "Make sure you are taking care of yourselves, not just physically but mentally as well." She would also like to remind students of the resources the school has if needed, those being the guidance counselors and nurses.
Leave a Comment